Crash Bars, BMW F800GS or F650GS-Twin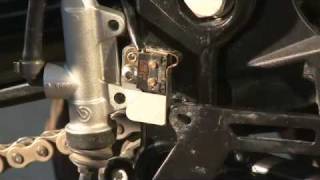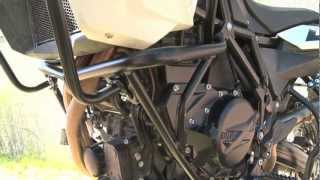 Crash Bars, BMW F800GS or F650GS-Twin
Questions about this product? Call 1-800-491-2926 or e-mail our sales team
What's Included
Left side crash bar
Right side crash bar
Mounting material
Instructions
BMW F800GS / F650GS Crash Bars - Touratech Crash Bars offer the most protection for your BMW F800GS or F650GS twin because they mount to the steel chassis of the motorcycle rather than the engine. Most other crash bars take the easy way and mount directly to the engine which transfers impact to the very thing it should be protecting... your engine!
Engine repair is expensive and can put an end to your trip. Invest in Touratech crash bars and give your F800GS engine the protection it needs to serve you well and put smiles on your face for years to come.
The compact and narrow design of the Touratech crash bars maximize manueverability when off road or traveling in the backcountry. The heavy duty 1" (25mm) diameter steel tubing and tig welded construction offers superior strength and maximum protection.
Touratech crash bars were the choice of BMW Motorrad when they outfitted (50) F800GS motorcycles for the GS Trophy competition in Africa. The Touratech Crash Bars delivered 100% protection with all (50) motorcycles making it to the finish, despite the difficult terrain the bikes were tested in.
Touratech crash bars are designed to allow routine maintenance to the F800GS or F650GS twin without removing the bars.
For the best protection, use these crash bars in conjunction with the 048-0302 Crash Bar Upper Extension.
These crash bars do NOT fit the 2013 and newer F800GS and F700GS. Please see part # 048-5155 for 2013 and newer BMW F800/700GS.
INSTALLATION NOTES: The left side crashbar is very easy to install. The right side is more involved because it attaches to the steel frame at the backside of the right footpeg. Disassembly of the brake pedal pivot, and other parts in that area is required, as well as loosening the exhaust catalytic converter mounting to ease access to the area.
Please watch installation video above to see the details on the entire installation.
Safe Shopping.
Guaranteed.
Your safe shopping experience is protected by EV SSL certificate technology with 256-bit RSA encryption.
EZ RETURNS.
No Restocking Fees. No Problem.
We want you to be HAPPY. If your order is not everything you dreamed, we'll fix it. Whether it's the wrong size or just not what you wanted, you can return it for a refund. We'll never charge a restocking fee for items returned in new unaltered condition within 60 days. Just return the item and we'll issue a full refund to the original payment method.