Holiday Deals!
Save $100 on Zumo XT GPS Units and $125 on Zumo XT Packages through December 27th. Click
HERE
for more Holiday specials.
DVD - Arizona Backcountry Discovery Route Expedition Documentary (AZBDR)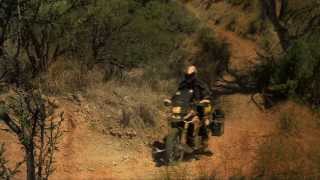 The AZBDR documentary provides an in-depth look into the creation and first expedition of the AZBDR. Follow a group of riders on adventure and dual-sport motorcycles including the Yamaha WR250R, KTM 990 Adventures, BMW F800GS', and the 2013 R1200GS water-cooled, as they tackle some of the toughest terrain, and enjoy the stunning and varied landscapes of Arizona's remote backcountry, including historic old west towns, remote deserts, pine-covered mountains, beautiful canyons and Native American landscapes.
The AZBDR is a scenic ride across the state of Arizona, beginning at the Mexico border and finishing at the Utah border. The route has been created specifically for dual-sport and adventure motorcyclists who are interested in exploring Arizona's remote back-country. This 750-mile south-to-north route utilizes many remote dirt roads and leads riders through iconic locations including the Mogollon Rim, Sunset Crater National Monument, Grand Canyon and the Navajo Nation.
For more information on the AZBDR, or to download the free GPS tracks of the route, visit the Backcountry Discovery Routes website.
To purchase the AZBDR route map click HERE.
Click HERE if you would rather purchase a digital download to watch on your computer, or pay to stream the video online.
Safe Shopping.
Guaranteed.
Your safe shopping experience is protected by EV SSL certificate technology with 256-bit RSA encryption.
EZ RETURNS.
No Restocking Fees. No Problem.
We want you to be HAPPY. If your order is not everything you dreamed, we'll fix it. Whether it's the wrong size or just not what you wanted, you can return it for a refund. We'll never charge a restocking fee for items returned in new unaltered condition within 60 days. Just return the item and we'll issue a full refund to the original payment method.