DVD - One More Cup of Coffee Before the Desert (European Format)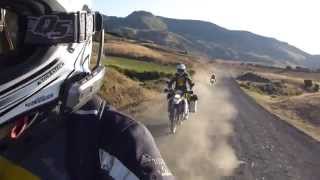 One More Cup of Coffee Before the Desert - 2600 miles by motorbike through Ethiopia
The inspiration behind this adventure from Herbert and Ramona Schwarz – a 4300 kilometer motorbike trip across Ethiopia – was simple: the founder of Touratech and his photo-journalist wife were curious as to where the coffee they enjoy every morning came from.

Accompanied by a film crew, their journey (riding four BMW F 800 GS and one BMW G 650 Xchallenge) takes them south across lands formerly known as Abyssinia, from the capital of Addis Ababa through an ever-changing yet always environmentally and culturally rich landscape.
An encounter with the Rastafarian community in Shashemene is as moving as that with the coffee farmers of Yirga Cheffe – the region that produces the best coffee beans in the world.
In the north, in Lalibela, the travelers marvel at an architectural masterpiece. What drives a community to hew 11 churches out of solid rock? With their bare hands! For 100 years...
Then, Herbert and Ramona ride into the unique scenery of the Simien Mountains, with deep gorges, escarpments and rugged peaks rising up to 4500 meters.
Via the sacred city of Axum, the route leads down to the Danakil Depression – one of the hottest and most forbidding places on earth, in which the Afar nomads lead a daily struggle for survival.
Unforgettable is the night spent camped on a volcano. The Erta Ale – in which an active lava lake seethes – is a force of nature. From the crater rim Herbert and Ramona look right into the earth's interior.
Every kilometer they ride and every human encounter challenges the usual preconceptions of Ethiopia – famine, poverty and conflict. Ethiopia is a country rapidly changing and on its way to a bright future.
This film is a documentary of an extraordinary motorbike journey, one day at 0ºC at 4000 meters the next at 40ºC at 128 meters below sea level, it is a journey of extremes. A journey through awe-inspiring landscapes and fascinating culture a thousand years old. Meeting a people who are one of a kind – and proud, friendly and hospitable.
Safe Shopping.
Guaranteed.
Your safe shopping experience is protected by EV SSL certificate technology with 256-bit RSA encryption.
EZ RETURNS.
No Restocking Fees. No Problem.
We want you to be HAPPY. If your order is not everything you dreamed, we'll fix it. Whether it's the wrong size or just not what you wanted, you can return it for a refund. We'll never charge a restocking fee for items returned in new unaltered condition within 60 days. Just return the item and we'll issue a full refund to the original payment method.