Ergonomics Package, BMW R1250GS / ADV, R1200GS / ADV 2013-on (Water Cooled)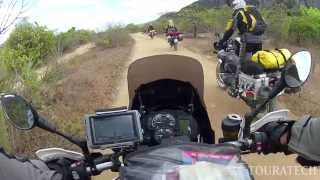 Ergonomics Package, BMW R1250GS / ADV, R1200GS / ADV 2013-on (Water Cooled)
Questions about this product? Call 1-800-491-2926 or e-mail our sales team
What's Included
25mm Bar Risers 045-5256
Works Footpegs (Low) 045-5316
Adjustable Rear Brake Lever 045-5395
The Ergonomics Package from Touratech is the quickest and easiest way to make your R1200GS water boxer feel like it was built for you. By lowering the footpegs, and raising the bars, it really opens up the motorcycle for more comfortable and controlled sitting and standing. The wide platforms of the Touratech Works Footpegs are much easier to stand on for long periods of time. The adjustable folding brake lever allows you to fine tune the control of the rear brake, and by raising the pedal, eliminates the common problem of the pedal being too low while standing up off-road.
The packages comes complete with 25mm bar risers, lower works footpegs, and an adjustable folding rear brake lever. All parts come with mounting hardware and are easy to install. No modifications to the motorcycle are necessary.
Other heights of bar risers are available and can be substituted in this kit. Please call us at 1-800-491-2926 if you would like to purchase this kit with a different type of riser.
Click the links below for the individual specifications and more detailed description of each part of the Ergonomics Package.
Adjustable Rear Brake Lever, 045-5395
Safe Shopping.
Guaranteed.
Your safe shopping experience is protected by EV SSL certificate technology with 256-bit RSA encryption.
EZ RETURNS.
No Restocking Fees. No Problem.
We want you to be HAPPY. If your order is not everything you dreamed, we'll fix it. Whether it's the wrong size or just not what you wanted, you can return it for a refund. We'll never charge a restocking fee for items returned in new unaltered condition within 60 days. Just return the item and we'll issue a full refund to the original payment method.