Expedition Skid Plate, Long, BMW R1200GS / ADV 2013-2016 (Water Cooled)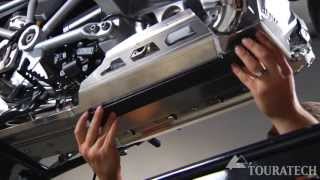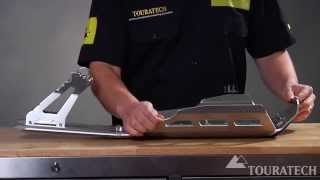 Touratech Expedition Long Skid Plate – Water Cooled BMW R1200GS / GSA
The ultimate bolt-on protection for your water-cooled R1200GS or Adventure. Touratech's Expdtion Long skid plate offers an ultra strong stainless steel sub-mount, 4mm thick aluminum construction with corrugated channels for extra strength, replaceable polyamide nylon sliders, low profile design, and complete uninterrupted coverage from the front of the engine to the rear wheel.
The R1200GS water cooled boxer is made to be ridden off-road, but has no frame underneath the motor to protect it from hazards on the ground. The exhaust manifolds, which are routed under the engine, are also exposed, making the skid plate a true necessity. Touratech has raised the bar by engineering a skid plate with 3 levels of impact-absorbing protection for your R1200GS liquid-cooled engine.
Expedition Long Skid Plate Design:
The foundation of the Expedition skid plate is a 4mm Stainless Steel reinforcement plate which is engineered to absorb and disperse impact forces by linking together 6 solid mounting points on the aluminum skid plate and 5 on the motor. The rear "tower" mount is made of stainless steel and extends upwards, bracing the plate to the subframe of the motorcycle.
The next level of protection comes from the heavy gauge 4mm aluminum skid plate engineered with corrugated channels for maximum strength and stiffness. The broad coverage of the Expedition skid plate protects the exhaust and engine case on the R1200GS 'water boxer'. The 6 mounting bolts are recessed in the channels for added protection and ease of service. The front of the skid plate extends upwards enough to protect the GS's vital oil filter and cooler which are left exposed from the factory.
The Expedition Skid Plate is finished with high-strength, fiber-reinforced polyamid nylon sliders that absorb impact and provide a sliding surface for negotiating obstacles. The rails also protect the bolt heads from rocks and other ground hazards.
Touratech's Expedition Long Skid Plate offers complete and unprecedented protection for your R1200GS water boxer engine. The heavy gauge stainless steel mounting plate absorbs impact while supporting the oversized 4mm contoured skid plate which has integrated polyamid nylon rails that absorb impact, protect bolt heads and provide a sliding surface for overcoming obstacles.
Safe Shopping.
Guaranteed.
Your safe shopping experience is protected by EV SSL certificate technology with 256-bit RSA encryption.
EZ RETURNS.
No Restocking Fees. No Problem.
We want you to be HAPPY. If your order is not everything you dreamed, we'll fix it. Whether it's the wrong size or just not what you wanted, you can return it for a refund. We'll never charge a restocking fee for items returned in new unaltered condition within 60 days. Just return the item and we'll issue a full refund to the original payment method.