Fuel Line Guards, Fits all Oil Cooled BMW R1200GS, GSA and HP2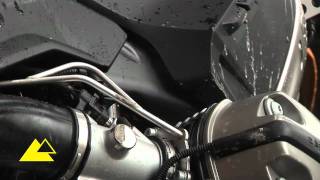 Fuel Line Guards, Fits all Oil Cooled BMW R1200GS, GSA and HP2
Questions about this product? Call 1-800-491-2926 or e-mail our sales team
What's Included
L + R side fuel line protector
Touratech fuel line guards protect the fuel lines and fragile injector connections on your BMW R1200GS or GSA. Rocks, branches, and often the rider's own boot can disable the boxer motor by breaking the plastic connection to the injector on the R1200GS.
Protect yourself from this pesky problem by installing a Touratech Fuel Line Guard set. Precision crafted at the Touratech Factory in Germany, these stainless steel guards are strong and light weight.
Touratech Fuel Line Guards are 100% compatable with BMW factory cylinder head guards.
Electro polished satin finish.
Installation is easy.
This new version replaced the older 044-0404 part number.
Safe Shopping.
Guaranteed.
Your safe shopping experience is protected by EV SSL certificate technology with 256-bit RSA encryption.
EZ RETURNS.
No Restocking Fees. No Problem.
We want you to be HAPPY. If your order is not everything you dreamed, we'll fix it. Whether it's the wrong size or just not what you wanted, you can return it for a refund. We'll never charge a restocking fee for items returned in new unaltered condition within 60 days. Just return the item and we'll issue a full refund to the original payment method.