Pinlock Anti-Fog Visor, Arai XD, XD3, XD4 Helmets (Visor Only)
Add a Pinlock visor system to your Arai XD helmet to fix its notorious fogging problem, as well as have the versatility to change out inserts for different weather conditions. The Pinlock system consists of two parts that are sold separately. Order a Pinlock visor to fit your helmet, then choose your desired Pinlock insert (sold separately).
The Pinlock system is based on three basic principles which together, work like nothing else:
Moisture absorbing material — Unlike the face shield, the Pinlock insert lens is made out of a soft, porous plastic.
Material thickness — Because thicker material absorbs more moisture and offers more impact protection.
Double lens system — The air-tight pocket in between the Pinlock insert lens and the face shield creates an extra insulation layer further increasing the anti-fogging properties of the total system. Fogging up is a thing of the past!
Pinlock lenses are created out of a moisture absorbing plastic. The silicone seal on the lens creates an airtight pocket between the shield and lens. The lens is placed between two adjustable eccentric pins, making it easy to install or switch lenses as weather conditions change.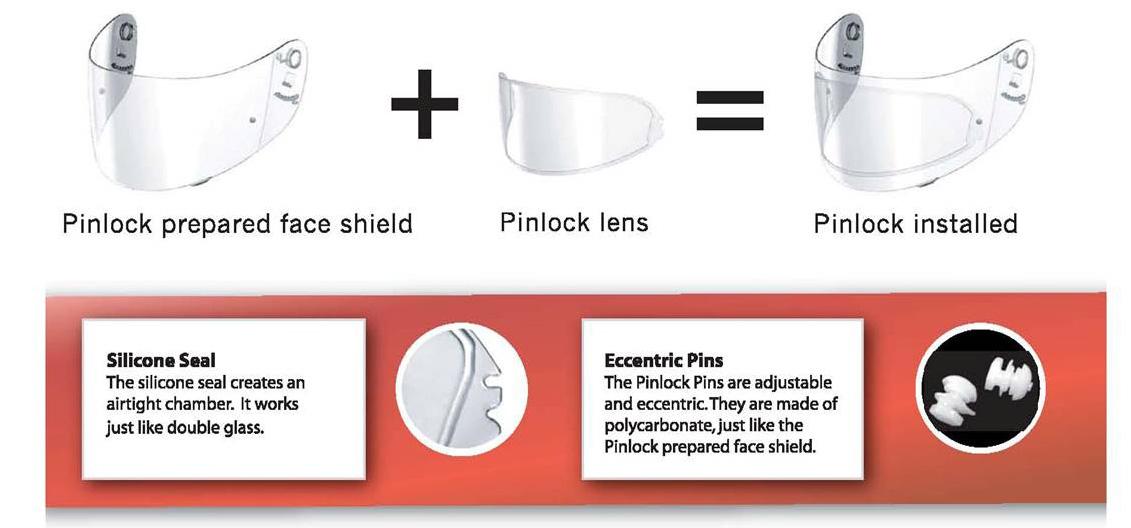 Safe Shopping.
Guaranteed.
Your safe shopping experience is protected by EV SSL certificate technology with 256-bit RSA encryption.
EZ RETURNS.
No Restocking Fees. No Problem.
We want you to be HAPPY. If your order is not everything you dreamed, we'll fix it. Whether it's the wrong size or just not what you wanted, you can return it for a refund. We'll never charge a restocking fee for items returned in new unaltered condition within 60 days. Just return the item and we'll issue a full refund to the original payment method.