TOURATECH Zumo 660 / 665 handlebar mount V2.0, Locking, Black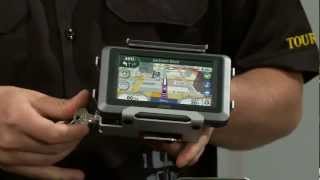 The ZUMO 660 & 665 locking mount V2.0 from Touratech is an easy way to secure a ZUMO GPS unit to your motorcycle. The device clamps the GPS unit with a mechanical closure and secures it with a key lock.
Simply push the tab on the bottom of the mount and the spring activated closure opens up releasing the GPS device. Installing or retrieving the unit from this mount is a quick and easy.
The ZUMO GPS device and the Garmin plastic cradle shown in the photos are original Garmin parts, and are not supplied with the Touratech mount. They do come with the GPS unit however.
Black anodised finish. (Also available in silver, part # 065-0523)
Safe Shopping.
Guaranteed.
Your safe shopping experience is protected by EV SSL certificate technology with 256-bit RSA encryption.
EZ RETURNS.
No Restocking Fees. No Problem.
We want you to be HAPPY. If your order is not everything you dreamed, we'll fix it. Whether it's the wrong size or just not what you wanted, you can return it for a refund. We'll never charge a restocking fee for items returned in new unaltered condition within 60 days. Just return the item and we'll issue a full refund to the original payment method.