Garmin Zumo XT and inReach Mini2 Sale:
Garmin Zumo XT GPS Units and locking mount packages are $100 off retail price (499.99 and 699.94) from June 4th through the 24th. inReach Mini 2 is priced $50 off retail through June 18th! Discounted prices are displayed on the product page. Place your order now to get the discounted price even if the page showing temporarily out of stock!

Touratech Bar Risers, BMW R1250GS / R1200GS / ADV, 2013-on (Water Cooled)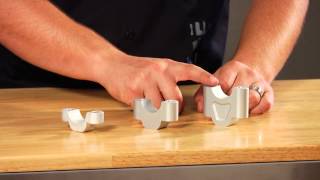 Touratech Bar Risers, BMW R1250GS / R1200GS / ADV, 2013-on (Water Cooled)
Questions about this product? Call 1-800-491-2926 or e-mail our sales team
What's Included
Bar Risers
Longer M8 Bolts
Customize the fit of your BMW R1250GS, R1200GS or GSA with a set of Touratech bar risers. There is no substitute for a bike that fits you. When it's more comfortable, it makes long trips more enjoyable.
Many R1250GS and R1200GS riders find that increasing bar height makes a noticeable improvement to their comfort. Raising the bar height results in a more upright position which can relieve neck and back strain. Touratech bar risers also enable a more comfortable and controlled standing position, which is ideal for off-road riding or just stretching the body on a long ride.

Touratech bar risers for the R1250GS, R1200GS or GS Adventure are available in 15mm (.6"), 25mm (1"), and 40mm (1.6") heights. Select your desired riser height from the drop-down menu above. These heights ensure you do not have to modify or replace your existing brake lines or other controls like with taller risers.
These aluminum bar risers are precision-crafted at the Touratech factory in Germany. They are designed specifically for the handlebars of the BMW R1250GS and 2013 and newer water-cooled BMW R1200GS and GSA models.
Safe Shopping.
Guaranteed.
Your safe shopping experience is protected by EV SSL certificate technology with 256-bit RSA encryption.
EZ RETURNS.
No Restocking Fees. No Problem.
We want you to be HAPPY. If your order is not everything you dreamed, we'll fix it. Whether it's the wrong size or just not what you wanted, you can return it for a refund. We'll never charge a restocking fee for items returned in new unaltered condition within 60 days. Just return the item and we'll issue a full refund to the original payment method.