Holiday Deals!
Save $100 on Zumo XT GPS Units and $125 on Zumo XT Packages through December 27th. Click
HERE
for more Holiday specials.
Touratech Explore HP Rear Shock, Yamaha Super Tenere XT1200Z, non-ES models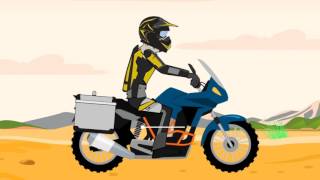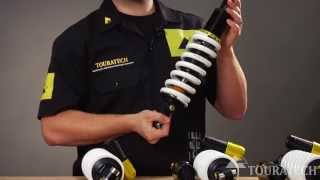 Touratech Explore HP Shock - Yamaha Super Tenere XT1200Z
Why Touratech Suspension?
Touratech Suspension is the world's first purpose-built shock absorber for long-distance touring with a fully-loaded motorcycle. Right out of the box, it has the strength, features and adjustments to go the distance on your Super Tenere hauling luggage.
The Touratech Explore HP shock is over-built by design with heavy-duty materials, over-sized components, 50% more spring pre-load adjustment, and adjustable rebound damping that's tuned for optimal performance with a fully-loaded motorcycle. With an Explore HP shock, the preload can be quickly adjusted by turning the knob with your hand. If you don't mind using a tool to adjust preload, the Explore shock may be a good option since it costs less and offers all of the same features except the quick-adjust preload knob.
It's recommend to put stiffer fork springs in the front end when you upgrade the rear shock of the Yamaha Super Tenere XT1200Z.
"I could not be more satisfied with my Touratech Suspension. It worked flawlessly for 15,000 miles on my journey from Seattle to the southern tip of Argentina. I now recommend it for my GlobeRiders clients and any adventure motorcyclist that is heading out on a serious ride."
–Helge Pedersen
Why do I need this?
Motorcycle Manufacturer's Shocks - The shocks found on new motorcycles are designed to be inexpensive and fit the needs of the average 170lb rider with 15lbs of luggage. As a result, they often meet the minimum standard for function. The performance of a stock shock is typically not confidence inspiring. With heavy loads, stock suspension "bottoms out" easily and doesn't have sufficient preload or damping adjustment range. They aren't serviceable and, with heavy loads, are prone to blown-out seals and other failures. The rider often feels the bike is too spongy and doesn't handle properly.
Aftermarket Shocks - Most after-market shocks are made with performance riding in mind, but aren't built for use on a fully-loaded XT1200Z. Most can only withstand the weight of the rider and don't offer good handling, or have adequate preload adjustment. They also don't have the durability to go the distance with a fully-loaded touring bike.
How is Touratech Suspension Different?
•50% more preload adjustment than other shocks on the market. A generous 15mm of adjustment allows proper pre-load set-up for a fully-loaded Super Tenere XT1200Z. Most shocks have 8-10mm which is not enough to accommodate long-distance quantities of luggage or a passenger. The Explore HP shock offers a convenient preload adjustment knob which hydraulically changes in the preload setting of your bike to compensate for the addition of a passenger or luggage.
•A floating piston separates the air and the oil to prevent oil foaming. This technology ensures that your shock will have smooth and consistent performance even in punishing environments.
•Cold forged 6082 T6 aluminum shock body machined to exacting standards offers high-strength and maximum heat dissipation.
•High-strength stainless steel bushings ensure the mounting points of the shock will go the distance.
•Low-friction seal with integrated Teflon back-up ring maximizes performance and extends the life of the shock.
•Oversized 16mm high-strength shaft made of chrome-moly steel for maximum strength and durability.
•Available in a range of spring rates to match the rider's weight requirements.
•Damping set up for fully-loaded Super Tenere right out-of-the-box.
Key issues to consider when selecting a shock
Hydraulic Preload Adjustment -With a Touratech Explore HP shock, the spring preload can be adjusted hydraulically by turning the knob with your hand. If you don't mind using a tool to adjust preload, the Explore shock may be a good option since it costs less and offers all of the same features except the quick-adjust preload knob.

50% More Spring Preload Adjustment- When you load your Super Tenere with luggage and all the gear for a weekend trip or extended tour, the bike will sag under the weight of the load. Most shocks are NOT designed to handle this. With Touratech Suspension, you can adjust the pre-load to bring the bike back to level. Because of the full 15mm of adjustment you can raise the back of the motorcycle as much as 2 inches to compensate for the load which restores proper geometry for optimum handling and overall feel of the bike. Most shock preload adjusters only have 8-10mm of adjustment which can only raise the back of the bike by 1.2 inches.

Floating Piston Superiority – Touratech Suspension uses a Floating Piston design which offers the best damping performance because it physically separates the nitrogen gas from the oil. Most shocks use oil emulsion damping which allows oil to mix with the nitrogen gas in a foaming process that basically 'thins' the oil and prevents the shock from working properly. When the oil is "foamed" the bike bottoms easily and also springs up too quickly resulting in erratic handling and an unsteady ride.
With the floating piston design of Touratech Suspension there is a physical separation of oil and nitrogen gas which means you can ride rough roads all day long and enjoy consistent high performance. Why buy a shock whose performance gets worse the harder you ride it? Before you invest in new suspension for your Super Tenere make sure it's a floating piston design.
Stainless Steel Bushings - While many aftermarket shocks use aluminum bushings where the shock mounts to the motorcycle, Touratech Suspension uses high-strength, non-corroding stainless steel. This creates a strong and rigid connection which is important for a loaded XT1200Z. The stainless steel bushings protect against corrosion and seizing and offer low maintenance and longer life.

Low-Friction Seal – Our seals have a backbone that virtually eliminates friction interference on the damping activity. On other shocks, the seal deforms as damping pressure increases and causes stiction on the shaft. Touratech Suspension is equipped with a proprietary low-friction seal that is supported by Teflon back-up ring. This Teflon backbone keeps the seal from deforming and eliminates stiction on the shaft even at high pressures. The result is better performance, increased reliability and longer service life, even in harsh environments.

Oversized high-strength shaft – While most manufacturers use a 14mm carbon steel shaft, Touratech suspension uses a 16mm high-strength chrome-moly steel alloy.

Aluminum Shock Body – Some manufacturers use a steel shock body to reduce cost. Touratech suspension uses cold-forged 6082 T6 aluminum for the shock body because it's lightweight, strong and durable. It also dissipates heat 30% more effectively than steel, which results in more stable and predictable damping delivering better handling and a smoother ride. A cooler shock will also have more consistent damping and a longer service life.
Adjustable Rebound Damping – Right out of the box, this shock is ready for adventure with its rebound damping levels set for touring on a fully-loaded Super Tenere. The rebound damping is also fully adjustable so the ride can be customized to your preferences.

Custom Springs – Touratech Suspension is available in a range of spring rates so we can ensure your shock has the proper spring for your application.
Fully Serviceable – All Touratech Suspension is fully serviceable and can be customized or re-built by Touratech-USA or any certified Touratech Suspension technician.
Summary – Touratech Explore HP Shock
The Touratech Explore HP is an excellent upgrade from a stock OEM shock and a great alternative to other aftermarket shocks that have only oil-emulsion damping or don't offer enough pre-load adjustment. If you need a shock that can perform well for fully-loaded touring, this shock will improve your ride right out of the box. The Explore HP offers the convenience of adjusting the preload quickly without using a tool.
Note: If you want a shock with adjustable high and low-speed compression damping and a remote reservoir, consider the Touratech Expedition Shock, Part # 046-5865.
Please see our Sag Setting Tutorial, and Shock Adjustment Tutorial on the Touratech blog to learn how to tune your shocks for the best comfort and performance.


Safe Shopping.
Guaranteed.
Your safe shopping experience is protected by EV SSL certificate technology with 256-bit RSA encryption.
EZ RETURNS.
No Restocking Fees. No Problem.
We want you to be HAPPY. If your order is not everything you dreamed, we'll fix it. Whether it's the wrong size or just not what you wanted, you can return it for a refund. We'll never charge a restocking fee for items returned in new unaltered condition within 60 days. Just return the item and we'll issue a full refund to the original payment method.