Touratech GD Hand Guard Kit w/ LED Blinkers, Ducati Multistrada 1200 (2010-2014)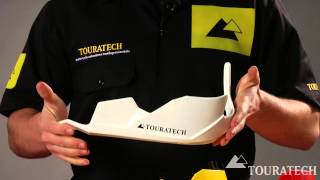 Touratech GD Hand Guard Kit w/ LED Blinkers, Ducati Multistrada 1200 (2010-2014)
Questions about this product? Call 1-800-491-2926 or e-mail our sales team
What's Included
2 LED turn signals
2 turn signal mounts
2 Touratech Plastic GD handguards
Handguard mounting kit
Anodized aluminum bar-end weights
Stainless-steel clutch fluid reservoir mount
Stainless-steel front brake fluid reservoir mount
This extremely strong and durable handguard kit for the Ducati Multistrada 1200 will provide the ultimate in protection for your motorcycle's controls.
The stock Ducati hand guards are not strong enough for off-road riding, or even everyday drops in the parking lot. With both the turn signals and brake/clutch fluid reservoirs mounted to the guard itself, the stock setup is less than ideal and will cost a lot of money and time to repair.
These Touratech handguards come complete with new stainless-steel fluid reservoir mounts, LED blinkers with laser-cut brackets to mount to the fairing (where the should have been all along), anodized aluminum bar-end weights to cut down on vibration, and some of the strongest plastic hand guards on the market.
Everything for mounting is included in the package along with installation instructions. Purchase the optional spoiler kits if you would like additional coverage from the wind and rain.
Safe Shopping.
Guaranteed.
Your safe shopping experience is protected by EV SSL certificate technology with 256-bit RSA encryption.
EZ RETURNS.
No Restocking Fees. No Problem.
We want you to be HAPPY. If your order is not everything you dreamed, we'll fix it. Whether it's the wrong size or just not what you wanted, you can return it for a refund. We'll never charge a restocking fee for items returned in new unaltered condition within 60 days. Just return the item and we'll issue a full refund to the original payment method.