Touratech GD Hand Guards, Kawasaki KLR650 2008-on, Versys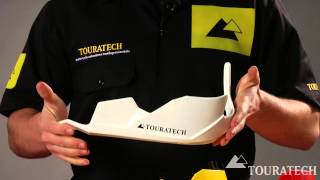 Touratech GD Hand Guards, Kawasaki KLR650 2008-on, Versys
Questions about this product? Call 1-800-491-2926 or e-mail our sales team
What's Included
Plastic Touratech hand guards
All mounting hardware
Kawasaki KLR650 & Versys Handguards - Protect your Kawasaki's bars, levers, and controls with a set of Touratech handguards. Built out of extremely tough plastic, these hand guards give you the benefit of being flexible, absorbing impact instead of transfering it to your handlebars or bar mounts like a rigid aluminum or steel guard.
Available in several different colors, these guards come with all the necessary mounting hardware and are designed to be an exact fit for your 2008 and newer Kawasaki KLR650 or Kawasaki Versys 650/1000. If you'd like extra wind and rain coverage, additional spoilers are available for purchase separately.
NOTE: With Kawasaki KLR 650, we strongly recommend adding bar risers when installing these hand guards. The bar risers add extra clearance between the handlebars and the front fairing. Depending on the adjustment of your handlebars and handguards, the hand guards could make contact with the fairing at a full-lock turn without bar risers installed.
Safe Shopping.
Guaranteed.
Your safe shopping experience is protected by EV SSL certificate technology with 256-bit RSA encryption.
EZ RETURNS.
No Restocking Fees. No Problem.
We want you to be HAPPY. If your order is not everything you dreamed, we'll fix it. Whether it's the wrong size or just not what you wanted, you can return it for a refund. We'll never charge a restocking fee for items returned in new unaltered condition within 60 days. Just return the item and we'll issue a full refund to the original payment method.