Touratech Progressive Fork Springs, 2" Lowering, BMW F800GS, 2008-2012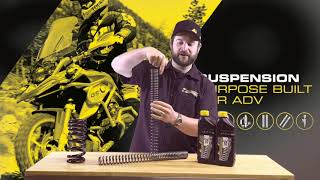 BMW F800GS Lower (-2 inch) Fork Springs -
The F800GS is designed with great ground clearance for off-road use, but unfortunately it can be too tall for most riders' comfort. This set of lower fork springs along with a lower rear shock or spring will effectively lower your motorcycle two inches while also improving the handling and ride comfort.
Not only will it lower the front of your motorcycle, installing progressive front fork springs will also give your F800GS a significant improvement in handling and braking, both on and off-road. The progressively wound springs for the front suspension give you a plush ride at slow speeds, but when the road gets rough, or you decide to push hard in the corners, the springs are much firmer towards the bottom of the travel where you need it the most.
Replacing your front fork springs with our progressively wound lower springs is a less expensive alternative to having your fork's travel reduced and installing shorter springs. No modifications to your forks are necessary to run these springs. They work by using a very soft spring rate for the first 2" of travel, and a normal progressive rate for the rest, giving you a fork that is 2" shorter under weight, but normal length unweighted.
NOTE: It is only recommended to run these fork springs along with an equally matched 2" lower rear shock or spring. If an even balance is not maintained, your motorcycle's handling will be adversely affected.
Safe Shopping.
Guaranteed.
Your safe shopping experience is protected by EV SSL certificate technology with 256-bit RSA encryption.
EZ RETURNS.
No Restocking Fees. No Problem.
We want you to be HAPPY. If your order is not everything you dreamed, we'll fix it. Whether it's the wrong size or just not what you wanted, you can return it for a refund. We'll never charge a restocking fee for items returned in new unaltered condition within 60 days. Just return the item and we'll issue a full refund to the original payment method.