Holiday Deals!
Save $100 on Zumo XT GPS Units and $125 on Zumo XT Packages through December 27th. Click
HERE
for more Holiday specials.
Zega Mundo Pannier System, Honda Africa Twin CRF1000L & Adventure Sports All Years
Zega Mundo Pannier System, Honda Africa Twin CRF1000L & Adventure Sports All Years
Questions about this product? Call 1-800-491-2926 or e-mail our sales team
What's Included
1 - Africa Twin Pannier Rack
2 - Zega Mundo Panniers
All mounting hardware
Zega Mundo Pannier System for Honda Africa Twin CRF1000L
Like the Africa Twin, the Zega Mundo pannier system is functional, reliable and an excellent value. Unleash the potential of your Africa Twin by outfitting it with luggage that can take you around the world and won't break the bank.

Using the same latch and mounting system found on the popular Zega Pro™ panniers, the Zega Mundo™ allows easy access to your gear with a lid that hinges on either side or can be removed all together. The straight sides and rectangular shape make packing and unloading a snap. The boxes are secured to the stainless steel racks with a robust puck and clamp system that provides an incredibly strong connection while still allowing the box to be removed with ease.

The extruded aluminum sealing edge has a deep groove with a silicone seal creating a waterproof, dust-proof and structurally sound seal. The minimalist, bare-aluminum design has a clean and stylish look, while retaining the toughness required for adventure motorcycle touring.

Manufactured using cutting-edge technology, the body features rounded lines and a modern feel. Low profile anchor loops are located on the rounded edges of the pannier lid providing a flat surface to use as a table or a seat at the campfire. Built from 1.5mm aluminum and stainless steel rivet construction these sturdy panniers are available in 31 and 38 and 45 liter sizes.

There are many luggage options on the market, but only a few have the quality and performance to bear the Touratech name. You can trust your adventure to Zega Mundo™.
Technical Specs and Engineering Details:
Structure: The Touratech mounting system is the strongest in the industry. German-built 18mm diameter tube racks with 2mm thick sidewalls form a rectangular "hoop" on both sides of the bike to support the panniers. The innovative cross-braced rack system bolts directly to the motorcycle sub-frame transferring the pannier load directly to the bike's chassis. Mounting systems from other manufacturers might look good when the boxes are off the bike, but they compromise safety and reliability that can result in critical failures.
Zega Mundo™ pannier racks for the Honda Africa Twin CRF100L are available in electro-polished stainless steel or black powder coated stainless steel.
Easy Removal: Touratech Zega Mundo™ panniers attach to the steel mounting racks using heavy-duty composite and steel mounting brackets in four locations. This design offers a very secure fitting and can be quickly released to take the boxes off.
Waterproof: All Touratech panniers have a deep groove aluminum interface with silicone seal. This provides dust proof and waterproof storage even in driving rain or a river crossing.
Dual-function latch: This latch allows quick access by releasing one side while the other functions as a hinge. Release both latches for complete lid removal which makes for easy packing. The lid can also be used as a utility tray when camping or keeping track of parts during a field repair on your motorcycle.
Security: A hidden spring loaded safety tab ensures that the lid stays closed and its discrete location enhances security. Add a set of optional Integral Locks to each pannier for even more security. Click HERE to watch a video of the lock installation process.
Dimensions: The overall width of the Honda Africa Twin 31/38 liter system is 39 inches. The width of the 38/45 liter system is 42 inches. The high ground clearance of the boxes allow you to negotiate sections of deep sand or ruts. On the road, it provides clearance for cornering at speed.
Fits Honda Africa Twin CRF1000L and Adventure Sports models. Select your model year from the menu before ordering.
NOTE: In 2018, Honda started using wider rear turn signals with 15mm spacers on them for the North American market. Because of this spacer, the left rear turn signal interferes with the pannier when installed on the rack. The simple fix is to relocate the spacer on the rear turn signals to the inside of the tail section, reducing the rear turn signal width by 15mm on each side. This is done without permanent modifications to the motorcycle or re-wiring. Instructions are included in the delivery of the rack.
This is only necessary on 2018 and newer CRF1000L and Adventure Sports models with factory turn signals using Touratech aluminum panniers.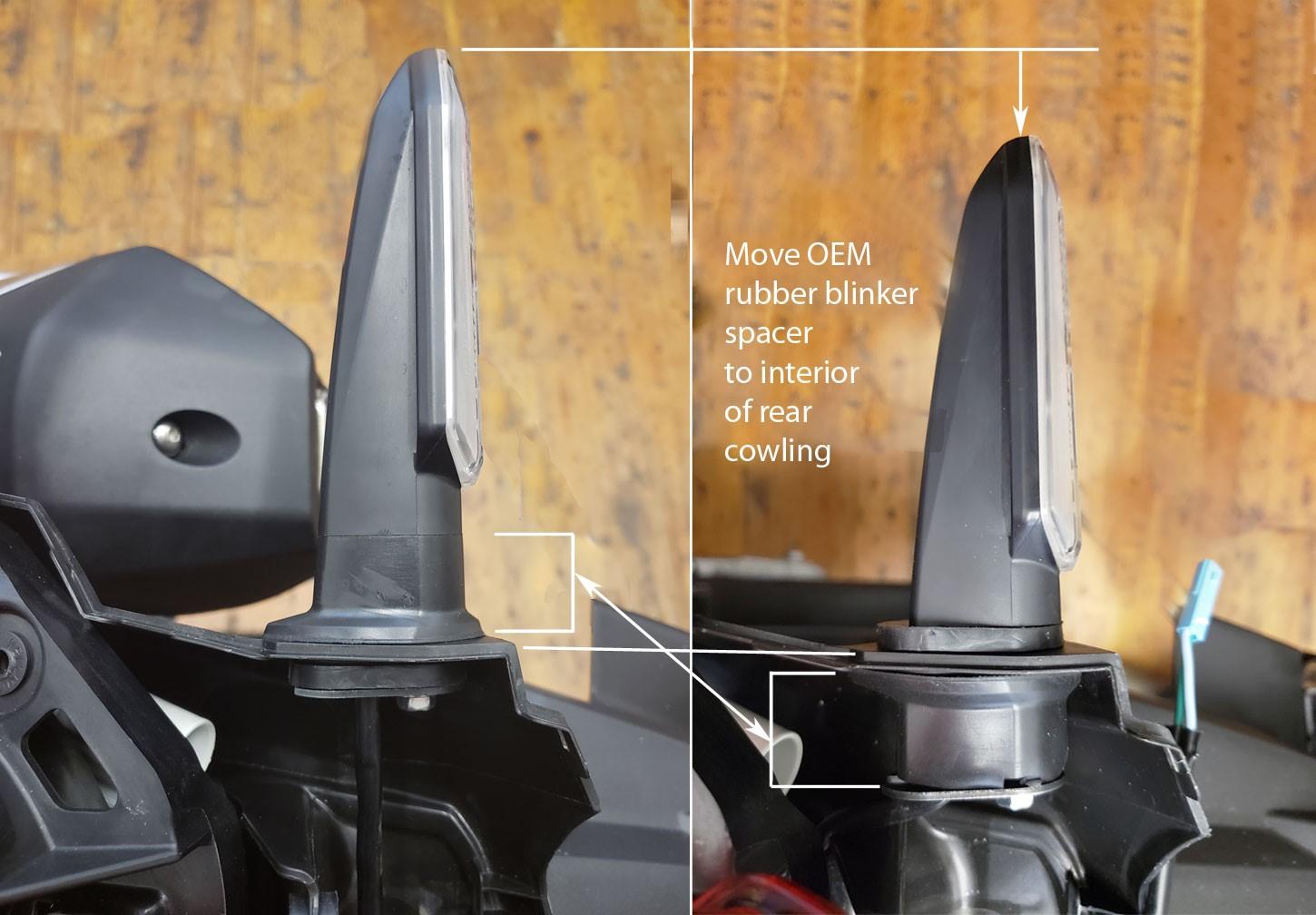 Safe Shopping.
Guaranteed.
Your safe shopping experience is protected by EV SSL certificate technology with 256-bit RSA encryption.
EZ RETURNS.
No Restocking Fees. No Problem.
We want you to be HAPPY. If your order is not everything you dreamed, we'll fix it. Whether it's the wrong size or just not what you wanted, you can return it for a refund. We'll never charge a restocking fee for items returned in new unaltered condition within 60 days. Just return the item and we'll issue a full refund to the original payment method.