Touratech Plug & Travel EVO Suspension Set, BMW R1200/1250GS & GSA 2013-on
Touratech Suspension Plug & Travel EVO shocks for the BMW R1200GS, GSA and R1250GS, GSA are the next generation of semi-active suspension upgrades that work with the stock BMW electronics. Re-designed from the ground up, this system features revolutionary technical innovations that provide you with a greater range of adjustment, better damping performance, and dramatically improved comfort on your water-cooled BMW R1200GS or R1250GS. Developed in a years-long collaboration between the suspension team at Touratech and renowned suspension producers JRZ and Eibach, the Plug & Travel EVO series is now setting new standards for performance and reliability.
BENEFITS OF THE TOURATECH SUSPENSION PLUG & TRAVEL EVO
One-piece shock body machined from a single block of aircraft-grade aluminum for maximum stiffness, bullet-proof reliability, and lighter unsprung mass than previous generation of Plug & Travel Suspension.
Easy adjustment of damping range allows you to make the shock feel more plush, or dial up the firmness for off-road terrain or aggressive riding. Changes to the personality of the suspension can easily be made by turning the finger-friendly dial which is numbered from 1 to 15. You no longer need tools or knowledge of the difference between high & low speed compression damping. Counting clicks is a thing of the past. Get the suspension 'dialed-in' to match your preferences quick & easy with one clicker dial.
The Hyper Flow damper piston is a completely new design, engineered to suppress foaming and cavitation which ensures consistent damping performance to provide predictable and stable performance no matter how tough the terrain gets or how hot the riding environment is.
Low friction seal enables the damping to work with precision by reducing any stiction on the shaft to allow for free movement.
High-strength seal head for durability and longer shock life.
Newly developed electromagnetic valve uses the latest technology and knowledge gained over the last 10 years to respond with precision and consistency in demanding situations.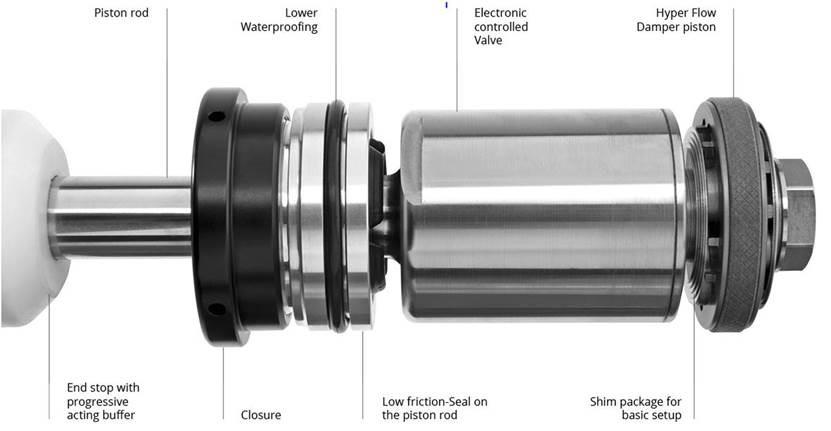 Not your father's bumper. While it appears to just be a bumper it's actually an engineering masterpiece that utilizes a proprietary shape and unique polymer structure to achieve a perfect ramp-rate that progressively slows the travel at the end of the stroke to smoothly prevent bottoming. The result is better control and comfort for the rider as the shock utilizes the last bit of stroke to smooth out the ride.
Powerhouse pre-load adjuster improves performance with lightning-fast action and bullet-proof reliability. The computer thinks fast on the BMW R1200GS or R1250GS so our pre-load adjuster has been engineered to have the increased power allowing the EVO suspension to react lightning fast to changing conditions on the ground.
Optimized for auto leveling! The engineering feat of auto leveling suspension is one of the best innovations in the last decade. While this feature has thrown some aftermarket shocks for a loop, the Plug & Travel EVO has been specifically developed to not only accommodate it, but actually enhance the auto leveling performance of your BMW.
Full travel ensured. While not all aftermarket shocks preserve the full travel of the BMW R1200GS or 1250GS, the EVO has been designed to utilize the full stroke of the bike was designed to have.
High-quality Uniball bearings have been designed with precise tolerances, smooth reliability for longer service life than prior versions.
Plug & Play integration with the electronic system on the BMW R1200GS /1250GS/A motorcycles. All of the dynamic suspension features and ride modes work in a seamless fashion with this shock. The settings work as intended but with a higher quality shock with state-of-the-art technology and a much broader range of adjustment and spectacular performance that must be ridden to be appreciated.
Lowering Shocks are available to adjust your seat height. Please pick your lowering level from the menu before adding to cart, and be adviced that your sidestand and centerstand may need ot be shortened or replaced with a shorter version after install..
Safe Shopping.
Guaranteed.
Your safe shopping experience is protected by EV SSL certificate technology with 256-bit RSA encryption.
EZ RETURNS.
No Restocking Fees. No Problem.
We want you to be HAPPY. If your order is not everything you dreamed, we'll fix it. Whether it's the wrong size or just not what you wanted, you can return it for a refund. We'll never charge a restocking fee for items returned in new unaltered condition within 60 days. Just return the item and we'll issue a full refund to the original payment method.