Touratech RallyeForm Skid Plate, Yamaha Tenere 700 (up to 2022)
Fits up to 2022 models. Does not fit Euro 5 emissions models.
The Touratech RallyeForm skid plate for the Yamaha Tenere 700 provides the most complete and seamless coverage for your motorcycles vulnerable engine and exhaust system. With its unique shape and integrated header protection, you will be ready for anything the road or trail throws at you.
We start with a sheet of 4mm aluminum and use precision tooling with 500,000 pounds of force to press it into just the right shape to provide armor for your engine. Cold stamping the sheet into a three-dimensional shape creates some serious benefits. First of all, the process changes the crystalline structure of the material resulting in a tougher shell for better resistance to denting.
This manufacturing process also completely eliminates the need for welds, a common location for cracks to begin. Designed with smooth radius bends, the shell is a much stronger structure than other skid plates on the market. Beyond strength, there are more benefits. With no sharp corners to snag or get hung up on obstacles, the Rallye Form skid plate will glide over deep sand or rough terrain making a smooth experience both bike and rider. Producing skid plates this way also provides more clearance for the front tire.
Developed for Touratech's Race Team who thoroughly tested this product while racing at the Hellas Rally where they won the big bike class and took 2nd in the overall rally, against a more than a hundred competition 450cc race bikes. After this amazing result, we started calling this product the Rallye Form skid plate.
Compatible with OEM Yamaha center stand.
There was a change between 2021 and 2022 models when Yamaha switched to Euro 5 emissions standards. Skid plate fitment is different between these models, so if your bike is a 2022 Euro 5 model, and has exhaust headers that looks like the picture below, the Rallyeform Skid plate will not work on your motorcycle. Please order the Expedition Skid Plate, which is compatible with Euro 5 2022-on models.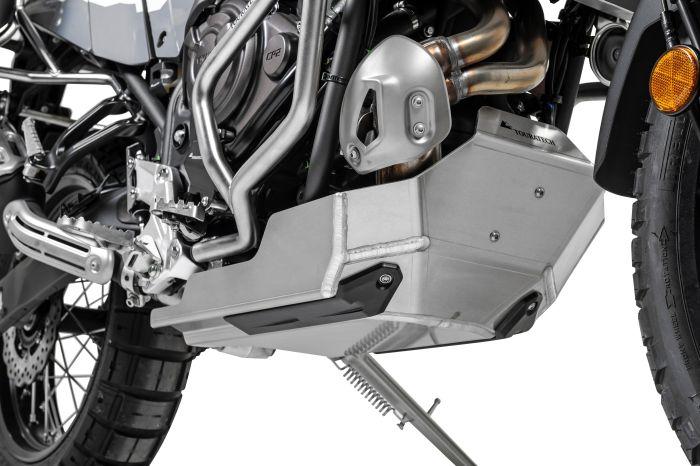 Safe Shopping.
Guaranteed.
Your safe shopping experience is protected by EV SSL certificate technology with 256-bit RSA encryption.
EZ RETURNS.
No Restocking Fees. No Problem.
We want you to be HAPPY. If your order is not everything you dreamed, we'll fix it. Whether it's the wrong size or just not what you wanted, you can return it for a refund. We'll never charge a restocking fee for items returned in new unaltered condition within 60 days. Just return the item and we'll issue a full refund to the original payment method.