Adventure Upper Crash Bar Extensions, BMW R1200GSA, 2014-on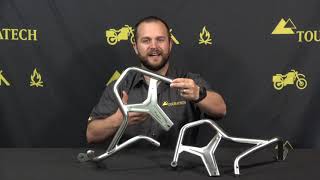 Upper Crash Bar Extensions for water-cooled BWM R1200GSA
Protect your aluminum fuel tank from damage with the robust upper crash bar extensions from Touratech. The water-cooled R1200GS Adventure model features a massive fuel tank that gives the bike an amazing fuel range but is also vulnerable to denting and damage with its wide, aluminum construction.
Made of strong, 1" thick stainless steel tubing, these extensions brace to the GS's frame in two places, as well as bolting with discreet, laser-cut clamps to the original BMW upper bars. These bars are engineered to distribute the force of an impact to the frame, protecting your tank and bodywork in the event of a fall. The stylish design also accents the rugged look of the GSA, while not being too distracting.
Easy to install, these bars bolt-on quickly using precision clamps that mount to existing points on the bike. Precision crafted in the black forest by Touratech.
Safe Shopping.
Guaranteed.
Your safe shopping experience is protected by EV SSL certificate technology with 256-bit RSA encryption.
EZ RETURNS.
No Restocking Fees. No Problem.
We want you to be HAPPY. If your order is not everything you dreamed, we'll fix it. Whether it's the wrong size or just not what you wanted, you can return it for a refund. We'll never charge a restocking fee for items returned in new unaltered condition within 60 days. Just return the item and we'll issue a full refund to the original payment method.