Aluminum Skid Plate, BMW R1200GS / ADV, 2005-2013 (Oil Cooled)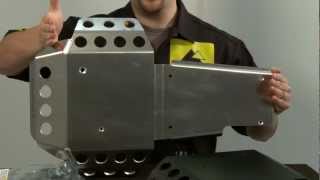 BMW R1200GS Skid Plate - The Touratech skid plate is crafted from lightweight and strong aluminum plate and is welded in the corners to increase strength. A low profile design maximizes ground clearance and the 6 mounting points offer a reliable connection to your BMW R1200GS or GS Adventure.
Why do you need a skid plate on the R1200GS? Because the motorcycle has a large motor and no frame to protect the underside. This means that in rough terrain and off-pavement riding situations you can easily damage the motor by bottoming out without the appropriate protection.
Touratech has engineered 6 mounting points to ensure a reliable connection to the motorcycle. The Touratech system utilizes a bonded-rubber isolator connection to ensure that the plate absorbs the impact while transferring the least force possible to the engine.
Touratech has designed the skid plate to have a smooth bottom surface. In the case that the bike contacts the ground, or a log, for example, the smooth surface allows the R1200GS to slide over the obstacle.
With a total length measuring 24 inches, the protection extends from the front exhaust crossover all the way back to the center stand. The catalytic converter is completely protected.
Touratech skid plates have been tested by world travelers in some of the most remote and rugged places on earth. The Touratech skid plate for the R1200GS is the only one trusted by GlobeRiders founder, Helge Pedersen.
"I've ridden thousands of miles all over the world, crossing rocky rivers, bouncing through pot-holed dirt roads and shaking my teeth loose on washboard surfaces. The Touratech skid plate has protected the engine every mile of the way. This is the only skid plate I trust and recommend to my clients."
- Helge Pedersen, Founder, GlobeRiders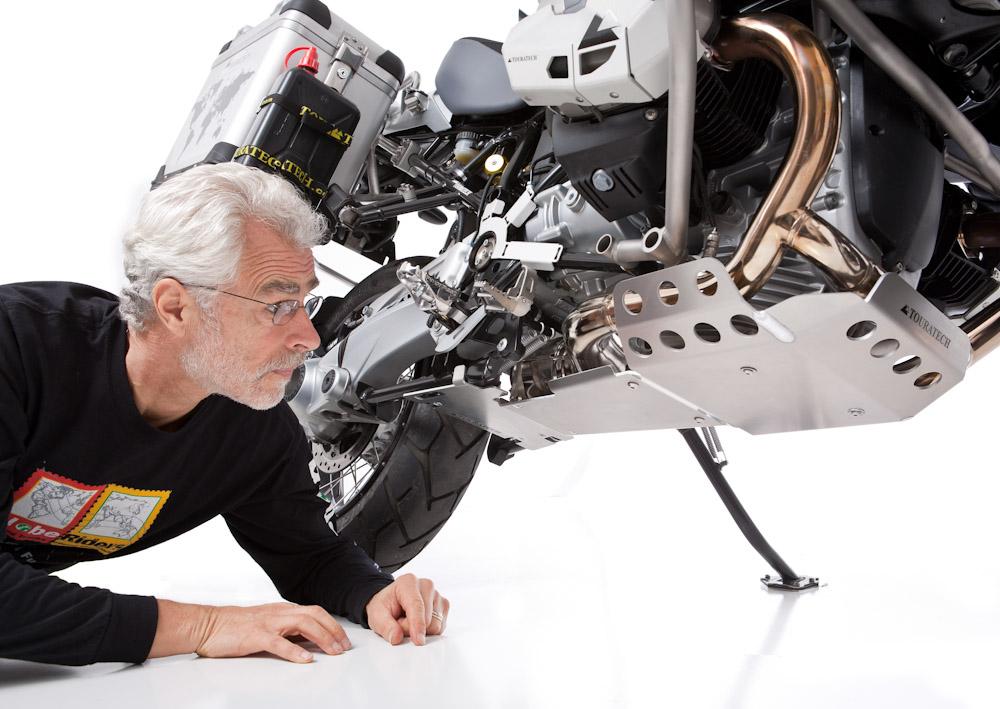 NOTE: If you have the 30th Anniversary Edition 1200GS with the special "Enduro" skid plate, or have the optional "Enduro" skid plate installed from the dealership, you need to purchase extra parts to fit our skidplate to your motorcycle. Go to your BMW dealer and purchase the "normal" front skidplate bracket, BMW part # 11117695189 to mount this skid plate.
Safe Shopping.
Guaranteed.
Your safe shopping experience is protected by EV SSL certificate technology with 256-bit RSA encryption.
EZ RETURNS.
No Restocking Fees. No Problem.
We want you to be HAPPY. If your order is not everything you dreamed, we'll fix it. Whether it's the wrong size or just not what you wanted, you can return it for a refund. We'll never charge a restocking fee for items returned in new unaltered condition within 60 days. Just return the item and we'll issue a full refund to the original payment method.