Plug & Travel ESA Upgrade Shock, BMW F800GS / ADV, 2013-on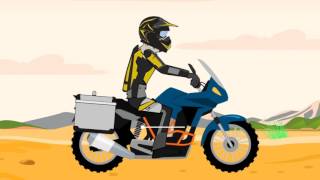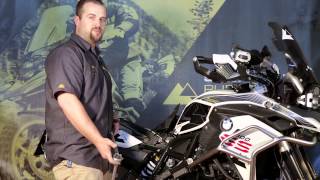 Plug & Travel ESA Upgrade Shock - BMW F800GS & Adventure (2013-on)
The ESA buttons still work... Now they just work better.
The ESA option for BMW's 2013 and newer F800GS allows the rider to choose from three modes on the rear shock. With the press of a button, the damping settings on the rear shock change between Comfort, Normal, and Sport.
The shortcomings with the OEM shock are that the damping is set-up for a relatively lightweight rider who travels without luggage, and the unit is not serviceable. Material and design compromises made in order to hit a price point on the OEM unit result in a shock that will wear out or blow seals, long before the rest of the bike gets tired and it must be replaced.
To solve these problems, Touratech Suspension has developed the Plug & Travel ESA Upgrade. A high-performance replacement shock that offers world-class ride characteristics, is 100% serviceable, and is a bolt-on solution that plugs in to the BMW ESA system allowing the ride-mode buttons to function even better than stock.
The Plug & Travel ESA Upgrade shock also includes bottoming prevention that works like a hydraulic pillow at the end of the stroke. There are other after-market solutions that will add some new parts and pieces to the OEM shock electronics, but the Plug & Travel ESA Upgrade is the only solution that offers a completely new shock with integrated electronic hardware as one package.
The Plug & Travel ESA Upgrade Shock is over-built by design with heavy-duty materials, over-sized components, 50% more spring pre-load adjustment, and damping settings that are tuned for optimal performance with a fully-loaded motorcycle.
"I could not be more satisfied with my Touratech Suspension. It worked flawlessly for 15,000 miles on my journey from Seattle to the southern tip of Argentina. I now recommend it for my GlobeRiders clients and any adventure motorcyclist that is heading out on a serious ride."
–Helge Pedersen
This shock also comes in a low version which lowers the seat height by 2 inches. Use the drop down menu to select the standard or low version. When lowering the rear of your F800GS, please also order our 2 inch lower fork spring kit to lower the front end equally.
How is Touratech Plug & Travel Different?
•Fully ESA compatible with the BMW F800GS's stock electronics. Simply plug-in, and you're off to your next adventure.
•All new electronics are supplied with the Plug & Travel ESA upgrade, so unlike other shocks on the market, you don't have to re-use your stock BMW stepper motor or other controls that are prone to failure. The Plug & Travel shock is shipped complete and ready to run.
•Wider range of damping adjustment than the OEM and other aftermarket shocks due to a more advanced stepper motor and valving. This allows a wider range of adjustment, effectively making the 'comfort' setting more comfortable, and the 'sport' setting much sportier.
•Stepper motor protected from the elements housed in the shock itself surrounded by oil. The original BMW stepper motor is mounted in the lower clevis and vulnerable to moisture, making it prone to premature failure
•Bottoming control with secondary compression damping technology which prevents bottoming out. The (PDS) Position-dependant Damping System is like a hydraulic pillow at the end of the stroke.
•50% more preload adjustment than other shocks on the market. A generous 15mm of adjustment allows proper pre-load set-up for a fully-loaded F800GS. Most shocks have 8-10mm which is not enough to accommodate long-distance quantities of luggage or a passenger. The Explore HP shock offers a convenient preload adjustment knob which hydraulically changes in the preload setting of your bike to compensate for the addition of a passenger or luggage.
•Cold forged 6082 T6 aluminum shock body machined to exacting standards offers high-strength and maximum heat dissipation.
•High-strength stainless steel bushings ensure the mounting points of the shock will go the distance.
•Low-friction seal with integrated Teflon back-up ring maximizes performance and extends the life of the shock.
•Oversized 16mm high-strength shaft made of chrome-moly steel for maximum strength and durability.
•Available in a range of spring rates to match the rider's weight requirements.
•Damping set up for fully-loaded F800GS right out-of-the-box.
Key issues to consider when selecting a shock
PDS bottoming control - Imagine riding your fully-loaded F800GS on the 'Road of Bones' in Siberia and not having to worry about bottoming out the bike. The Position-dependent Damping System or (PDS) makes this possible with a secondary damper piston that creates progressive damping. This allows you to keep the primary compression damper settings a bit softer and more comfortable because the (PDS) damper will kick-in when needed like a hydraulic pillow to prevent bottoming out at the end of the shock stroke.
Hydraulic Preload Adjustment -With a Plug & Travel ESA shock, the spring preload can be adjusted hydraulically by turning the knob with your hand. If you don't mind using a tool to adjust preload, the Explore shock may be a good option since it costs less and offers all of the same features except the quick-adjust preload knob.

50% More Spring Preload Adjustment- When you load your F800GS with luggage and all the gear for a weekend trip or extended tour, the bike will sag under the weight of the load. Most shocks are NOT designed to handle this. With Touratech Suspension, you can adjust the pre-load to bring the bike back to level. Because of the full 15mm of adjustment you can raise the back of the motorcycle as much as 2 inches to compensate for the load which restores proper geometry for optimum handling and overall feel of the bike. Most shock preload adjusters only have 8-10mm of adjustment which can only raise the back of the bike by 1.2 inches.

Stainless Steel Bushings - While many aftermarket shocks use aluminum bushings where the shock mounts to the motorcycle, Touratech Suspension uses high-strength, non-corroding stainless steel. This creates a strong and rigid connection which is important for a loaded F800GS. The stainless steel bushings protect against corrosion and seizing and offer low maintenance and longer life.

Low-Friction Seal – Our seals have a backbone that virtually eliminates friction interference on the damping activity. On other shocks, the seal deforms as damping pressure increases and causes stiction on the shaft. Touratech Suspension is equipped with a proprietary low-friction seal that is supported by Teflon back-up ring. This Teflon backbone keeps the seal from deforming and eliminates stiction on the shaft even at high pressures. The result is better performance, increased reliability and longer service life, even in harsh environments.

Oversized high-strength shaft – While most manufacturers use a 14mm carbon steel shaft, Touratech suspension uses a 16mm high-strength chrome-moly steel alloy.

Aluminum Shock Body – Some manufacturers use a steel shock body to reduce cost. Touratech suspension uses cold-forged 6082 T6 aluminum for the shock body because it's lightweight, strong and durable. It also dissipates heat 30% more effectively than steel, which results in more stable and predictable damping delivering better handling and a smoother ride. A cooler shock will also have more consistent damping and a longer service life.
Custom Springs – Touratech Suspension is available in a range of spring rates so we can ensure your shock has the proper spring for your application.
Fully Serviceable – All Touratech Suspension is fully serviceable and can be customized or re-built by Touratech-USA or any certified Touratech Suspension technician.
Don't waste time riding around on a tired stock shock. Evolve the ESA on your F800GS with the Plug & Travel ESA Upgrade.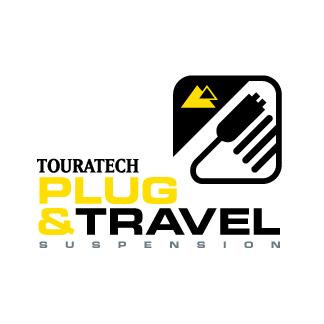 Please see our Sag Setting Tutorial, and Shock Adjustment Tutorial on the Touratech blog to learn how to tune your shocks for the best comfort and performance.
Safe Shopping.
Guaranteed.
Your safe shopping experience is protected by EV SSL certificate technology with 256-bit RSA encryption.
EZ RETURNS.
No Restocking Fees. No Problem.
We want you to be HAPPY. If your order is not everything you dreamed, we'll fix it. Whether it's the wrong size or just not what you wanted, you can return it for a refund. We'll never charge a restocking fee for items returned in new unaltered condition within 60 days. Just return the item and we'll issue a full refund to the original payment method.