Quick Release Stainless Steel Headlight Guard, BMW R1200GS / ADV 2013-on, (Water Cooled)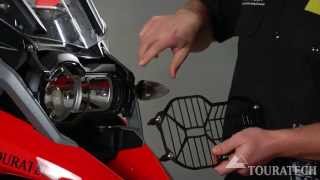 Don't let the lights go out on your adventure. Protect your expensive R1200GS or GSA headlight assembly with a strong laser-cut stainless steel grid. The design accents the unique styling of the water-cooled R1200GS or Adventure and looks great with a black powder coated finish or bare stianless steel.
The Touratech headlight guard comes in two different styles depending on your desired coverage. One has an extension that covers the void below the headlight. If you have an auxilliary light mounted under the headlight, this option would give you the best protection for your additional light.
This quick-release headlight guard for the liquid-cooled BMW R1200GS or GSA removes instantly for easy access to clean dust or dirt off the headlight assembly to maximize light output.
NOTE: Both guards will work with either LED or Halogen headlight, the difference between them being the lower extension that covers the void below the headlight.
Safe Shopping.
Guaranteed.
Your safe shopping experience is protected by EV SSL certificate technology with 256-bit RSA encryption.
EZ RETURNS.
No Restocking Fees. No Problem.
We want you to be HAPPY. If your order is not everything you dreamed, we'll fix it. Whether it's the wrong size or just not what you wanted, you can return it for a refund. We'll never charge a restocking fee for items returned in new unaltered condition within 60 days. Just return the item and we'll issue a full refund to the original payment method.