Zega Pro Topcase System, BMW F800GS / ADV, F700GS, F650GS-Twin, 2008-on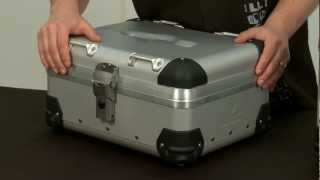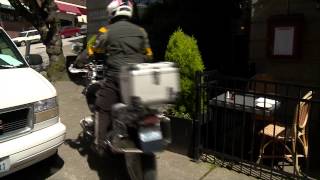 Zega Pro Topcase System, BMW F800GS / ADV, F700GS, F650GS-Twin, 2008-on
Questions about this product? Call 1-800-491-2926 or e-mail our sales team
What's Included
1- Zega Pro Topcase Rack
1- Rapid Trap equipped topcase
All mounting hardware
BMW F800GS / ADV, F700GS, F650GS Twin Topcase System -
The ultimate accessory for your BMW F800GS, F700GS, or F650GS twin is the Zega Pro top case from Touratech. With its Rapid Trap quick-release system, the top case can be attached, or removed from the bike in seconds. Maintaining the motorcycle's narrow width, the top box makes it easier to travel and find parking spots in urban areas. It's also a great addition to a pannier system expanding secure storage on the bike. This complete system includes the top case, mounting rack, and all mounting hardware.
Made from lightweight and durable aluminum, the Zega Pro top cases set the bar very high for quality build and finish. The cases can be equipped with an optional key lock for maximum security. The hinges and latch are constructed from laser-cut stainless steel for maximum strength and durability. The Zega Pro Top cases come in both 25 and 38 liter sizes and are available in raw aluminum, anodized black or anodized silver finishes.
Zega Pro top cases mount to a specially designed stainless steel topcase rack which easily installs onto existing mounting points on any model year BMW F800GS, F700GS or F650GS-Twin. The bright stainless steel rack ensures the best durability, and stays looking nice with no paint or coatings to worry about.
Everything you need to install the Zega Pro topcase to your BMW F800/700/650GS is included in this kit: the stainless steel topcase rack and a Rapid-Trap quick release equipped Zega Pro Topcase. We recommend adding locksets for the topcase lid and quick release system for maximum security. (part numbers 050-0870 and 050-0871.)
Safe Shopping.
Guaranteed.
Your safe shopping experience is protected by EV SSL certificate technology with 256-bit RSA encryption.
EZ RETURNS.
No Restocking Fees. No Problem.
We want you to be HAPPY. If your order is not everything you dreamed, we'll fix it. Whether it's the wrong size or just not what you wanted, you can return it for a refund. We'll never charge a restocking fee for items returned in new unaltered condition within 60 days. Just return the item and we'll issue a full refund to the original payment method.