Large Sidestand Foot, BMW R1200GS / ADV, 2006-2013 (Oil Cooled)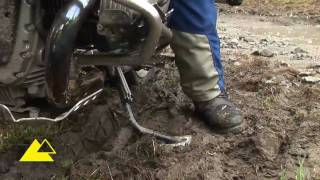 Touratech's Large Sidestand Foot stabilizes your BMW R1200GS when parked on the side stand. Whether you find yourself parking in grass, gravel, mud or forest soil, the increased surface area of the Touratech Sidestand Foot dramatically improves the stability of the R1200GS making your off-the-beaten-path parking much easier.
The Touratech Large Sidestand Foot is the choice of travelers the world over because of its solid stainless steel construction, well engineered fit and strong 4-bolt mounting connection. The top clamping plate wraps 360 degrees around the kick stand for the most soild connection to the side stand on the BMW R1200GS.
The Touratech Large Sidestand Foot installs easily and dramatically improves your parking experience when off pavement with your R1200GS
Adjust the lean angle of the bike by adding the optional spacer plate (part number 044-3033)
DOES NOT work with low frame models.
NOTE: This part replaces the previous 044-0205 Large Kickstand Foot.
Safe Shopping.
Guaranteed.
Your safe shopping experience is protected by EV SSL certificate technology with 256-bit RSA encryption.
EZ RETURNS.
No Restocking Fees. No Problem.
We want you to be HAPPY. If your order is not everything you dreamed, we'll fix it. Whether it's the wrong size or just not what you wanted, you can return it for a refund. We'll never charge a restocking fee for items returned in new unaltered condition within 60 days. Just return the item and we'll issue a full refund to the original payment method.